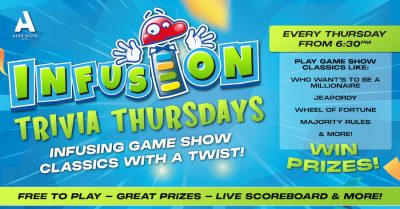 TRIVIA NIGHT with INFUSION TRIVIA
Every Thursday From 7pm
Forget paper trivia, poker, bingo, karaoke… Infusion is the hottest game show for all ages!
Get ready to have a blast at TRIVIA NIGHT with INFUSION TRIVIA, every Thursday starting at 7pm. Our trivia game is the hottest show in town for all ages, and we guarantee you won't find anything else like it.
That's right, you'll be playing with wireless buzzers instead of old-fashioned paper and pens, and watching your progress on the live scoreboard. So if you're looking for a fresh and exciting way to spend your Thursday nights, come join us and get ready to win some epic prizes! Don't miss out on the fun – mark your calendars now for TRIVIA NIGHT with INFUSION TRIVIA.
WEEKLY PRIZES:
1st Prize: $50 venue voucher
2nd Prize: $25 venue voucher
4 x Spot Game Prizes