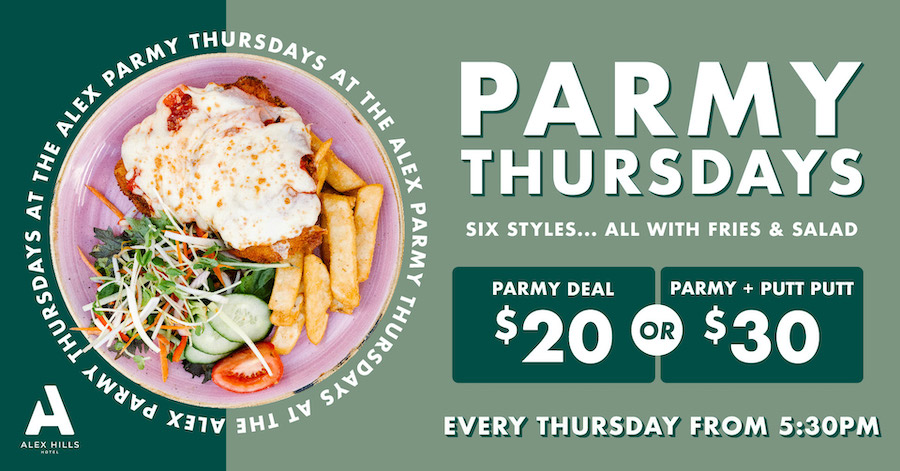 Every Thursday From 5:30pm
• Parmy Deal: $20 for any parmy!
• Parmy & Putt Putt: $30 per person.
Get ready for a parmy feast every Thursday at the Alexandra Hills Hotel, located in the beautiful Redlands area of Brisbane. Parmy Thursdays is the perfect mid-week event for all parmy lovers out there.
Join us every Thursday from 5:30pm for an evening of mouth-watering parmy dishes. Choose from our extensive menu of traditional, chicken, and eggplant parmies, each with their own unique twist. From classic toppings to creative options, we've got something for everyone's taste.
Our Parmy Deal: $20
Whether you're after a quick bite or a full feast, our Parmy Thursdays event has got you covered. All parmies on the menu start from just $20, so you can indulge without breaking the bank.
Parmy + Putt Putt: $30
Take your Parmy Thursday experience to the next level! Enjoy any of our six delicious parmies, and then challenge your friends or family to a fun round of putt putt golf. Test your skills, have a great time, and create lasting memories, all for just $30!
So, come on down to the Alexandra Hills Hotel every Thursday for Parmy Thursdays. It's the perfect way to kickstart your weekend and satisfy your parmy cravings!